SELECTED PRESENTATIONS, PERFORMANCES, WORKSHOPS, AND CONFERENCES
+Summer Solstice Reading–a Corporeal Writing's "Body of the Book" cohort–Arya Samuelson, Becca, Ella, Erin, Jumi, Sandy, and Tai. June 20, 2021, 5 p.m. PST via Zoom. Register for free event here. Donations gladly accepted towards BIPOC scholarships for future Corporeal Writing Collaborations.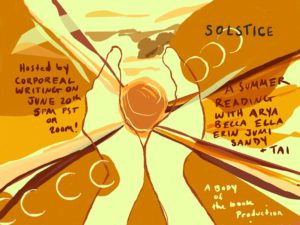 +(Her)oics Asian American Writers' Experiences in the Pandemic – May 16, 2021 4:00 PM PST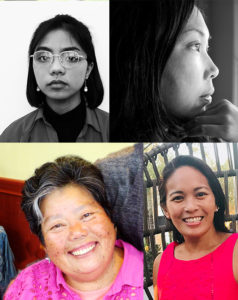 From the editors: Given the challenging news of ongoing anti-Asian sentiment and violence, we are very proud these writers have shared their work with the anthology. We will gather with gratitude, praise their stellar writing, and embrace these humbling stories. 
Sharing excerpts of their essays:
Hannah Agustin, Whitewater, WI. On Isolation; 
Ella deCastro Baron, La Mesa, CA. Bahala Na;
Shizue Seigel, San Francisco, CA. Prayers for a New Reality; 
Joanna Mailani Lima, San Diego, CA. Sacred Story Stitching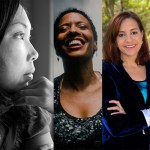 +"A Conspiracy of Lemurs" podcast, "Surviving Racism in a Global Pandemic: Being Black or Brown in America during the Coronavirus Pandemic."
Alicia Mosley and Ella deCastro Baron, contributors to the recently released (Her)oics: Women's Lived Experiences During the Coronavirus Pandemic, and Joanell Serra, coeditor of (Her)oics, (Pact Press, March 2021) will discuss their contributed stories: "Mosley's Mothering while Black during the Pandemic" and deCastro Baron's "Bahala Na."  In conversation with Pam and Jaynie, they will  consider the impact culture and race had on their communities' experience of the pandemic. Ella deCastro Baron is a second generation Filipinx American professor and author living in San Diego, California. Alicia Mosley is a poet and fiction writer, a mother of four, and a community educator. She earned her MEd in Curriculum Development and MFA in Creative Writing from the University of California, Riverside.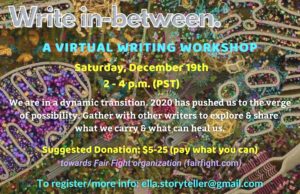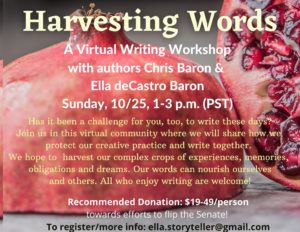 +A needed time of kapwa (shared identity, interconnection) during the Coronavirus Pandemic. Music, shared storytelling, and community from the U.S. held each other up a part of Filipinx American History Month (October) and the new APIDA Center at San Diego State University.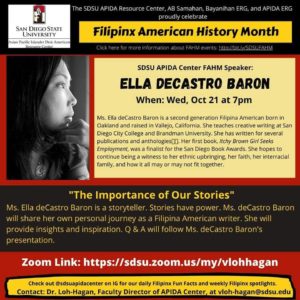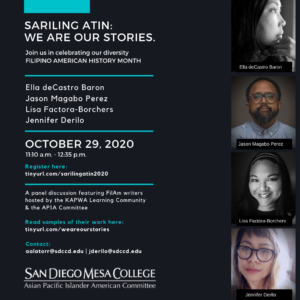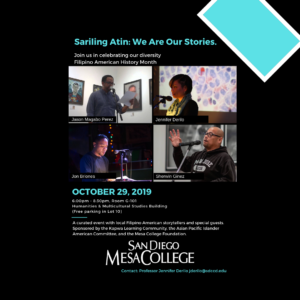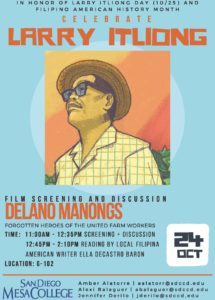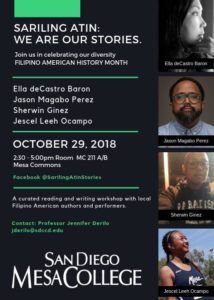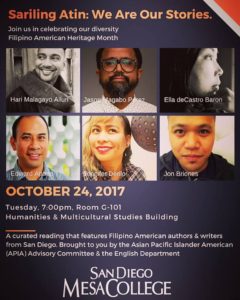 +Featured Author: Second Sunday Author Series San Diego Writer's Ink: Women's Voices, Women's Stories A Collaboration of the Women's Museum of California and San Diego Writers, Ink 4:30-5:30 pm at the Women's Museum, Barracks 16, Liberty Station April 2017
+Performance: Hausmann Quartet and So Say We All partner to present Seven Last Words at Liberty Station's Historic North Chapel, March 2017
+Book reading/performance, Tenth Annual San Diego City College International Book Fair, San Diego, CA  2015
+Presentation, Banned Books Week Celebration, Grossmont College, 2015
+Book reading/performance, Ninth Annual San Diego City College International Book Fair, San Diego, CA  2014
+Book reading/performance, Filipino American Heritage Month, Southwestern College, Chula Vista, CA 2012-2015
+Performance, VAMP (Visual/Audio Monologue Performance), So Say We All, San Diego, CA  2014
+Book Reading and workshop, Fil-Am (Filipino American) Fest, San Diego, CA  2013
+Performance, KALI (Kapwa Leadership Institute) San Mateo, CA 2013
+Workshop Co-Presenter, "Poetry of Witness," Poetry in the Cathedral 2012
+Panelist, Miramar College Filipino American Authors, San Diego, CA  2011
+Book Reading/performance, Pilipino American Graduate Student Association, UC Berkeley, 2010
+Book reading/performance, Borders Bookstore, El Cajon, CA  2010
+Seminar, "Navigating the Intersection of Faith and Ethnicity," InterVarsity Christian Fellowship's Asian American Staff Conference, San Mateo, CA  2010
+Book reading/performance and healing event, Coast Vineyard Christian Fellowship, La Jolla, CA  2010
+Book reading/performance, Writers' Series, Southwestern College, Chula Vista, CA   2010
+Book reading/performance, Grossmont  College's 14th Annual Literary Arts Festival, San Diego, CA  2010
+Book reading/performance & Artist Panelist, Asian Pacific American Conference, Millbrae, CA  2010
+Book reading/performance, Hugh Hyde Living Writer's Series, Laurie Okuma Memorial Reading, SDSU, San Diego, CA  2009
+Book reading/performance, Women's Event, Coast Vineyard Christian Fellowship, Del Mar, CA  2009
+Book reading/performance, San Diego City College International Book Fair, San Diego, CA  2009